---
I'm still so grateful that my hair has finally decided to grow. For years it wouldn't grow, and had a big chunk in the back that was actually shrinking.
When I was 13, my hair was nearly half-way down my back. Then I went to a hair salon and said, "I'd like a cut that suits my face, but I want to keep the length."
I've got another pic that shows the length better, but this one will do for now - me, age 13, pre-haircut.
They chopped it to my shoulders!
I was devastated. :(
Throughout my teen years, in the 80s, I kept waiting for my hair to grow, but it kept looking terrible. I got perms in hopes of making it look better, but that only hindered the growth by damaging it.
Me and my icky shoulder-length 80s hair, age 15. I was so frickin self-conscious about it back then.
When I was 19, a friend of a friend needed a hair model on whom to practice, so I volunteered. My hair was about half-way down my back at that point. I showed him a picture of a style I liked as far as how the front and sides looked, but asked him to keep the length.
He hacked it to my shoulders!
Again, I was devastated.
The following year, the same stylist needed a hair model for hair extensions, and so I got what was then worth about $400 in extensions put into my hair for free. I had waist-length hair for a few months, but the maintenance was a hassle, having to spray it with this horrible-smelling aerosol called Monosil. I got them removed when the sun bleached my natural hair but failed to change the colour of the artificial locks.
Over the years, I tried all kinds of hair products, vitamins, and supplements. Nothing helped.
I tried the "get your hair trimmed every eight weeks" line the beauty salon people tried to tell me. That only made my hair shrink faster.
My last perm, 1998.
The one thing that seemed to make a difference was getting out of a very stressful situation - I left the abusive relationship I'd been in from age 18 to 36.
Sure, the years between age 13 and 18 didn't involve the abusive guy, but I was living an unhealthy life in those days, with plenty of cigarettes, drugs, and alcohol, so those surely didn't help my fussy hair any more than the perms did.
Here are some progress photos: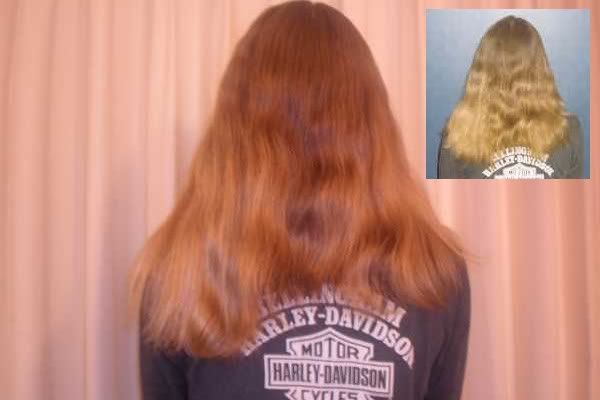 This was spring 2003. See the chunk missing on the right? I had gotten trims to make it all even and it kept shrinking up, breaking off, whatever. (The small picture on top is to show the proper colour of my hair). I think the growth problems were due to heavy stress I was under for many years.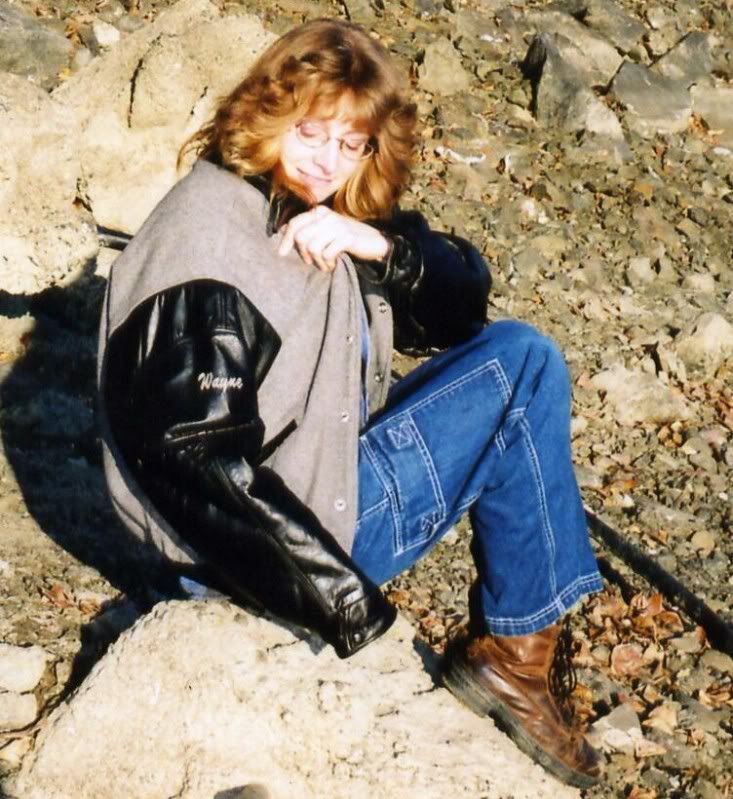 February 2004, shortly after I left the abusive guy I was with for 18 years. I had gotten my hair cut at a beauty school. They took off way more than I wanted, but I was then starting with a clean slate of 17" hair.
Summer 2005 - me with my sweet man. My hair is finally growing!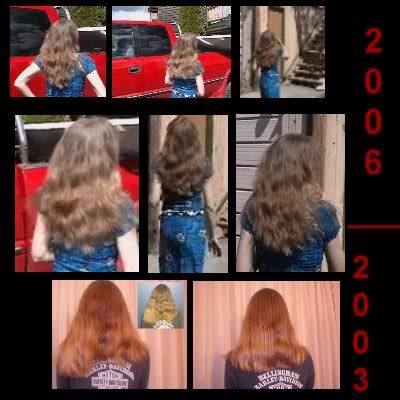 A progress page I threw together a few years ago. On the bottom right, you can see how much they had to trim to get it somewhat even. The chunk broke off again over a few months. Was so frustrating!
And now, here's one from March 2011:
Just got highlights and long layers put in. My hair is 32" long, aiming to have more inches than years of life (I'm 44 here).
(Edited to say: I need PhotoShop to edit that light circle off my jeans!)
(Showing the highlights I got in early March, 2011, with my hair up).
~Originally written in March 2011 on a long hair message board, by me.
__________________
Updated June 7, 2012 to add more recent photos:
January 2012






Curls done by one of my daughters with a clampless curling iron, May 2012
May 2012, age 45, with a few platinum streaks done in February